Window to the Past
Early trucks, buses and campers
By BOB HOLDGREVE
---
(Editor's note: Bob Holdgreve's column is on the early truck industry in west central and northwestern Ohio. He has also included photos and information on early buses and campers.)
NEW BREMEN — The Case Motor Co., 1910-1913, built trucks, the heaviest a one-ton model.
The Auglaize Motor Co. built trucks from 1911-1916.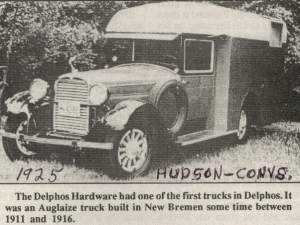 ---
DEFIANCE — The Turnbull Motor Truck and Wagon Co., 1917-1930, built one- and three-ton trucks. A large part of their production was fire appliances. From the mid 1920s they also had a Canadian assembly plant. During the last few years of its existence the company operated as the Century Motor Truck Co. with the vehicles occasionally referred to as Century trucks.
---
FINDLAY — L.A.W. Motor Truck Co., 1912-1913, built one-, one and one-half and two-ton trucks.
The Adams Bros. Co., 1911-1916, built one-, one and one-half- and two-ton trucks. In 1916 the company changed its name to the Adams Truck, Foundry and Machine Co. and then built one-, two-, and two and one-half-ton trucks.
Differential Steel Car Co., 1931-1936 and 1960 to ?, built two and one-half-ton and four-ton trucks. In 1960 the newly named Differential Co. again entered the truck field, building a 30-ton capacity, off- highway dump truck.
The Grant Motor Car Co., 1918-1923, built one-, one and one-half-, and two-ton trucks. Production was quickly moved to Cleveland.
---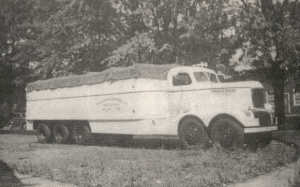 An Eisenhauer five-axle truck.
---
VAN WERT — The Eisenhauer Mfg. Co., 1945-46, built a prototype five-axle truck using the Chevrolet unit and front end. The truck had twin front steering axles, a tracking third rear axle and twin engines in tandem. The truck had a 20-ton capacity. In 1957, five similar vehicles were built for evaluation by the U.S. Army but no further development took place.
---
WABASH, Ind. and LIMA — The Relay Motors Corp., 1927-1933, brought out the Commerce Motor Truck Co. and Garford Motor Truck Co. and the Service Motors Inc. and soon moved all production to the Lima plant. By 1931, they built three-quarter-ton, five-ton and seven-ton trucks. The most interesting Relay was a 6x4 "Duo-Drive" which used two Lycoming straight eight engines located side-by-side with a total output of 275 hp, each driving a rear axle via separate air-operated five forward and two reverse transmissions.
---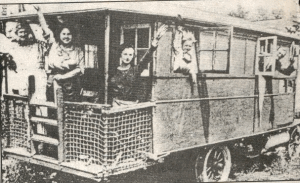 A very early motor home - 1909.
---
BOWLING GREEN — The Gramm-Logan Motor Car Co., built three model series of commercial trucks. In 1910, the company moved to Lima and was renamed Gramm Motor Car Co.
---
LIMA — The Gramm Motor Car Co., 1910-1913, built one-, two-, three- and five-ton trucks. Soon the company became the Gramm Motor Truck Co. In 1912, Benjamin A. Gramm formed the Gramm Bernstein Co. in conjunction with Max Bernstein, with Gramm production continuing until 1913.
The Gramm-Bernstein Co., 1912-1930 built two-, three and one- half- and six-ton trucks. In 1917, they built the first Class B Liberty truck for the U.S. government during World War I. This truck had the letters USA in the radiator tank. They built 1,000 of the trucks. The Liberty truck was also built by 14 other manufacturers. From 1918-1925, Gramm-Bernstein was also known as Gramm-Pioneers.
Gramm and Kincaid Motor Inc., 1925-1926, was formed by B.A. Gramm of Gramm-Bernstein Corp. in association with his son, W.J. Gramm, and R.M. Kincaid. They produced one- to four-ton trucks. In 1925 they moved into a brand new plant in Delphos and went by the name Gramm-Kincaid. Besides a variety of straight trucks, moving vans, fire trucks and buses in 1926, they started building an unusually low double drop frame passenger chassis. This was listed as a 20-seat inter-city coach or 21 -seat transit bus.
---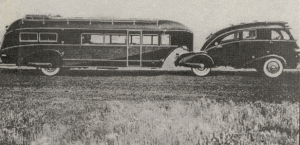 A travel trailer from the 1930s.
Maybe it was the first fifth-wheel trailer.
---
DELPHOS, 1926-1950s — When R.M. Kincaid left B.A. Gramm and his son W.J. Gramm, the business was reregistered as Gramm Motor Inc. They made trucks between one and five-ton capacity. Some of their buses were powered by Willys-Knight engines. The Condor truck appeared in 1932 and was identical to certain Gramm trucks until 1934 when a new range of Gramm trucks appeared.
By 1936, larger Gramms were built, up to seven and one-half ton. In 1939, a new range appeared with the company now being called Gramm Truck and Trailer Corp. Eventually the company left motor truck production and switched to truck trailers only. After a large fire in the early 1950s, the firm rebuilt and later moved to Lima, selling the Delphos plant to Fruehauf.
---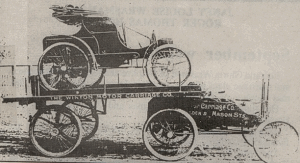 An 1898 Winston semi-truck carrying a new car.
This was likely the first semi-truck and car hauler in the U.S.

Gramm Trailer built trucks that were shipped worldwide and also did work for local businesses.
This truck, bearing 1929 license plates, was built for Jettinghoff and Beckman home furnishers.
---
NOTE: As early as 1901 Benjamin A. Gramm, a Portsmouth native, had assembled a one-cylinder automobile. Three years later he was employed by Logan Construction Co. and produced the Logan, the first two-cylinder truck in the nation. This was followed two years later (1906) by production of the first four-cylinder truck. Gramm earned the title of "Father of the Motor Truck Industry."
After Gramm Trailers moved to Lima it closed its plant and went, out of business. This led to the starting of a new business. E & R Trailer Sales and Service was started in 1959 near Middle Point by Ervin Hesseling, who had worked his way up at Gramm Trailers. E & R sold Gramm parts to truck owners all over the world.
---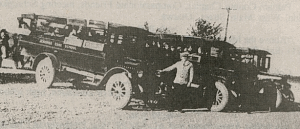 The first school buses for Fort Jennings, around 1923.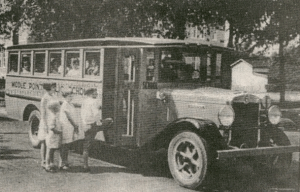 Middle Point school bus, built by Gramm.
---
Compiled by Robert Holdgreve
Delphos Historical Society
June 19, 1999 Delphos Herald Newspaper