Leslie C. Peltier - Historical Marker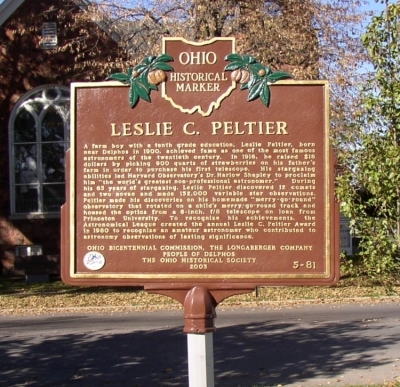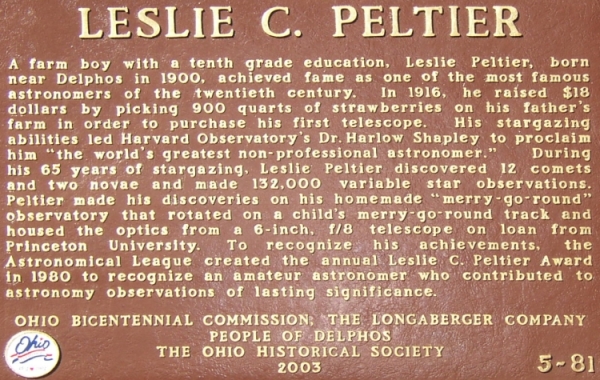 Leslie C. Peltier - Memorial Sundial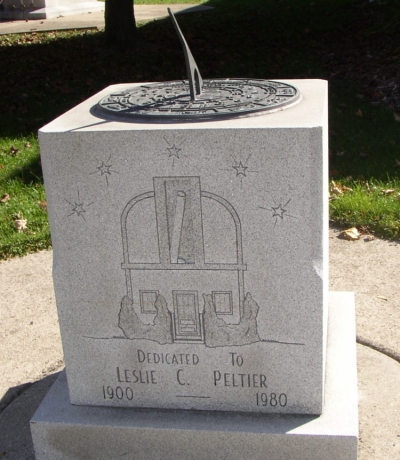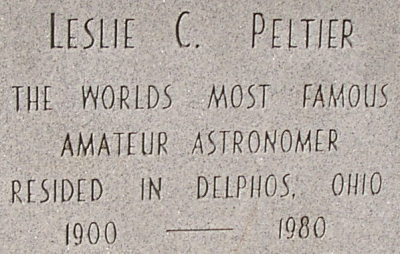 Leslie C. Peltier Historical Marker and Memorial Sundial are located at the Delphos Public Library.
---
Historical marker ensures Peltier never forgotten
An Ohio historical marker commemorating the life of world-famous astronomer Leslie Peltier of Delphos was unveiled in a ceremony at the Delphos Public Library September 20, 2003. The marker was placed next to the Peltier Memorial Sundial.
While Peltier secured his own place in history with the discovery of 12 comets, two novae, and 132,000 variable star observations, the memory of the Delphos native who died in 1980 will continue to be remembered with the marker.
Peltier's accomplishments include the discovery of his first comet when he was 25. From the age of 18 until his death at 80, Peltier never missed sending in a monthly report to the American Association of Variable Star Observers. Harvard astronomer and co-founder of the Astronomical League, Dr. Harlow Shapley, described Peltier as "the world's greatest non-professional astronomer." Peltier received an honorary doctorate from Bowling Green State University in 1947. In 1965, a mountain in California, home of the Ford Observatory, was named Mt. Peltier, in his honor. He appeared on the television show "To Tell the Truth" and was the author of three books, which are available at the Delphos Public Library. Peltier also served on the library board for more than 30 years.
From the Delphos Herald September 22, 2003 by Becky Hirn
---