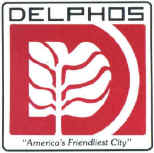 American's Friendliest City
Delphos located in Northwestern Ohio was founded in 1845 and incorporated in 1851. Reverend Father Otto Bredeick and his brother, Ferdinand, selected the location, which was determined by construction of the Miami-Erie Canal, the waterway that once ran from Toledo to Cincinnati. This is prime agricultural land.
Delphos has a population of 7,000 persons within its five square mile area, plus another 8,000 in its adjoining townships that are served by its Post Office and School System. The community sits in three counties, being divided east and west by the Van Wert-Allen County Line, and bounded to the north by Putnam County. The historic Miami-Erie Canal and the Lincoln Highway, the first coast-to-coast highway in this country, intersect in the heart of Delphos. The city celebrates its place in history with its annual Canal Days Festival.
TRANSPORTATION: Delphos is geographically located within easy access to both interstate and intrastate highway systems. US 30, which is a four lane expressway mirroring the historic Old Lincoln Highway, bounds the north of the community connecting Delphos with I-69 to the west, and I-75, I-71 and I-77 to the east. State highway systems that connect Delphos to the region include Old Route 30 (Lincoln Highway), State Routes 309, 66, 190 and 697, making Delphos truly the "Crossroads" to America. Also serving the city are the Indiana HiRail and the Conrail Railroads. A small airport is located just east of the city.
MANUFACTURES: There are several manufacturers and processors located in Delphos, including grain elevators, lumber yards, printing and publishing house, electroplaters, tool and die shops, automatic screw machine products, quarries, fertilizer plants, food processors, forgings and a large soybean mill. Products include granite monuments, truck trailers, axles, sheet metal products of all kinds, air brake tubing, service station equipment, metal detectors, farm wagons, and insulation. There are also many bee keepers in the area.
UTILITIES: Delphos is served by American Electric Power, Dominion East Ohio Gas, and Embarq Telephone. The City of Delphos supplied water to the area from eight underground wells, pumping a daily average of 1,150,000 gallons. In October 2007, the City of Delphos began receiving their water supply from the city's newly constructed 50 acre reservoir.
MEDIA: The Delphos Herald newspaper, published daily except Sunday, and Radio Station WDOH, FM Stereo 107.1 Lite Rock, serve the area. Time Warner Cable offers television viewing to the area.
BANKS: First Federal Bank, First Financial Bank, US Bank, and the Union Bank, are the financial institutions of the community.
EDUCATION: Public School enrollment totals 1128 students, including Kindergarten and Special Education classes. The Parochial School System enrollment is near 960 and includes Kindergarten through Grade 12. There is also a Training Center used by both school systems, offering 31 units of instruction in the business, vocational and industrial fields. Nine college and business and technical school campuses are within a short driving distance. There are twelve churches in the community, one operating a day-care center.
PARKS AND RECREATION: Delphos has a very fine Recreation Program. Facilities include four public parks with a total of 52 acres. A large municipal swimming pool, 10 tennis courts, basketball courts, stadium, shelter houses, playgrounds, many baseball diamonds, volleyball courts, and horseshoe courts can be found here. There is also a bowling center, soccer fields, 18-hole golf course, and all weather track and excellent fishing and boating facilities nearby.
ORGANIZATIONS: Organizations active in Delphos include the Chamber of Commerce, Historical Society, American Legion, VFW, Kiwanis, Lions, Rotary, Sportsmen's Club, Eagles, Masons, Knights of Columbus, Boy Scouts, 4-H, Future Farmers of America, PTO, School Boosters Girl Scouts, The Ladies Club and Optimist Club.
LIBRARY: Delphos Public Library, first opened to the public on October 12, 1912, with an addition added in 1961-62, another 4,000 sq. ft. addition added in 2005, serves a Tri-County area of Allen, Putnam, and Van Wert Counties with a choice of magazines, newspapers, DVD, cassettes, CD's, videos, puppets, interlibrary loan service, internet access, and a growing book collection of over 82,000. The library is a member of NORWELD Regional Library System.
MUSEUMS: Three museums are open to the public in Delphos. The Museum of Postal History is located in the lower level of the Delphos, Ohio Post Office. Over 7,000 sq. ft. of displays and media presentations have been designed to show the development of American history through the influences of the US Mail. The Delphos Canal Commission Museum Center features canal era exhibits including the only preserved canal boat in Ohio. The Delphos Historical Museum features items from the city's past, a craft and gift store, stained glass artist in residence, and a quilt club that always has a beautiful quilt in the making.
The Delphos Area Chamber of Commerce can be contacted for additional information about the community, its people, and its opportunities. Please call the Chamber of Commerce at (419) 695-1771, or the City Municipal Office at (419) 695-4010.

Back to Top
DELPHOS CITY MAP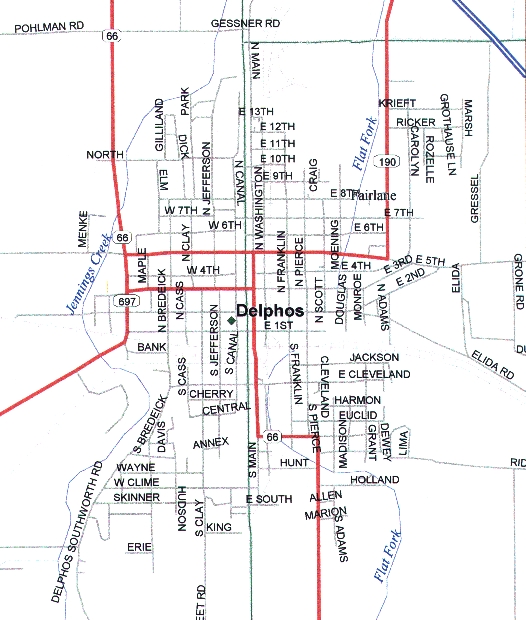 Back to Top